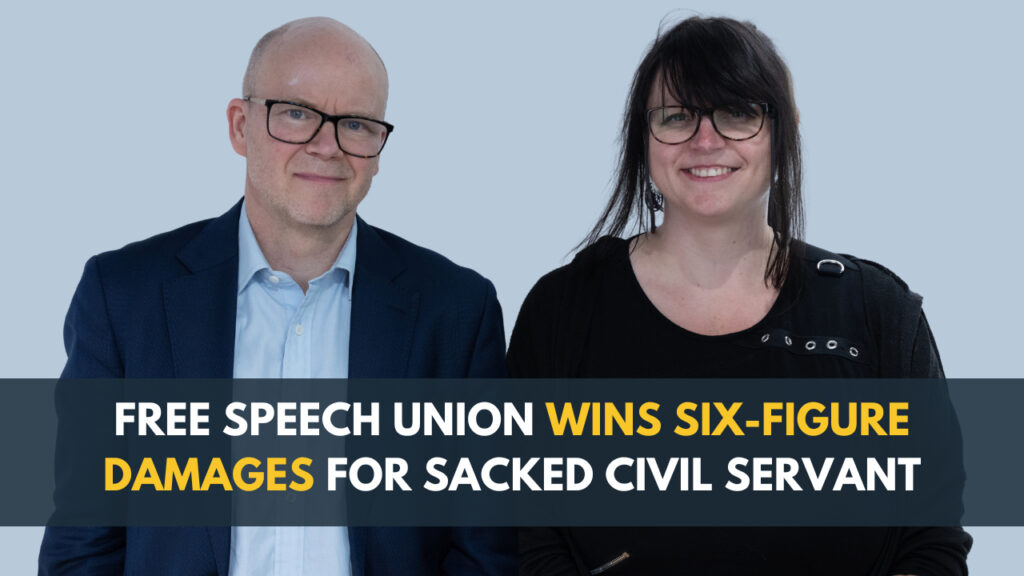 News of a great victory for freedom of speech in the workplace broke yesterday in the Telegraph.
In the FSU's biggest victory to date, we helped a civil servant get a £100,000 settlement after she was forced out of her department for raising the alarm about its embrace of Critical Race Theory and Gender Identity Ideology.
Anna Thomas, a 32-year-old single mother, was a work coach in the Department for Work and Pensions (DWP) who made a whistleblowing complaint about an all-staff memo from the Permanent Secretary saying he wanted the DWP to become an "anti-racist organisation" in the wake of George Floyd's death. This was followed by materials being distributed across the Department via an "anti-racism hub" asking white employees to "assume" they were racist and quoting Ibram X Kendi's dictum in How to be an Anti-Racist that it's not enough to be non-racist, you need to be "anti-racist". This is one of the core tenets of Critical Race Theory.
Anna also complained about the promotion of Stonewall-inspired Gender Identity Ideology in a departmental resource called "sexual orientation and language". At the time, the DWP was a member of the Stonewall Diversity Champions scheme.
Anna told her managers she was worried that the DWP's endorsement of these controversial theories was a breach of the Civil Service Code requiring them to be politically impartial and could lead to discrimination against white people. For this she was issued with a final written warning. Anna's fears were realised when she was then asked to help the Department organise some recruitment sessions for the Metropolitan Police which excluded heterosexual white men.
When Anna raised a whistleblowing complaint, pointing out that this was discriminatory and probably a breach of the Equality Act 2010, she was placed under investigation. After a gruelling, six-month process, in which she was told her comments in the internal chat group had caused "offence", Anna was fired for gross misconduct.
Luckily, Anna is a member of the FSU, and we were able to pull together a legal team to represent her, including our Chief Legal Counsel Dr Bryn Harris and the employment barrister Spencer Keen. With their help, Anna brought a case against the DWP in the Employment Tribunal for unfair dismissal, belief discrimination and harassment. Just before that was due to come to court, the DWP made a settlement offer of £100,000, which Anna accepted.
The DWP has refused to admit any wrongdoing, but in the run-up to the hearing it shared a note with Anna's legal team from a departmental behavioural scientist saying that in her view Anna was right and the promotion of Critical Race Theory via the "anti-racism hub" was political and inappropriate. In addition, the DWP has since ended its relationship with Stonewall, implicitly accepting that Anna was right about that too.
I'm delighted for Anna, but she should never have been put in this position. (She very kindly agreed to do a filmed interview with us following the settlement, and you can watch clips from that interview here and here). Her case shows how little tolerance there is in the Civil Service for anyone who challenges the progressive agenda of the people running the departments. Whitehall activists are constantly going after those they consider their political enemies because they've supposedly breached the Civil Service Code, but they should look for the beam in their own eyes. That Code requires them to be politically impartial, but these days that's a principle more honoured in the breach than the observance.
As Dr Bryn Harris, the FSU's Chief Legal Counsel, says:
Anna was treated grossly unfairly by the DWP, with severe consequences for her health and career. She showed heroic moral courage in exposing wrongdoing by public servants, with the help of the FSU and, crucially, the specialist employment barrister Spencer Keen. A true whistleblower, Anna fought not just for herself but for all of us in upholding the key constitutional norm of civil service impartiality. The DWP's promotion of a radical political agenda was unlawful and unconstitutional. For the DWP then to dismiss Anna for doing the right thing and speaking out was a betrayal of the standards we expect of our public servants. What we would like now is for the Government to investigate why the career of an articulate and intelligent young woman was destroyed in this way, leading to a pay-out of £100,000 of taxpayers' money.
Anna Thomas says the decision to join the FSU was the best one she's ever made (after the decision to have her daughter). If you're not already a member, you can join here. Fees start at £2.49 a month.
The FSU's Mactaggart Programme intervenes (again) on behalf of campus free speech!
It's little more than two months since the FSU's grant-giving project, the Mactaggart Programme, was established, and it's already helping to fund the free speech fightback at UK universities. Administered by the FSU, the Mactaggart Programme exists to provide grants to individuals, societies and other groups that wish to provide opportunities for debate, open discussion and intellectual exploration.
As many members and supporters will be aware, when university bosses recently ordered Bristol's Feminist Society to contribute £340 towards the security costs for a panel discussion on "advocating, litigating and protecting women's rights" , the event nearly fell through. But in an important victory for free speech, the FSU was able to meet these costs thanks to the Mactaggart Programme. (For more on this story, see this article in the Telegraph.)
Then, earlier this month, when St John's College Cambridge demanded that undergraduate Charlie Bentley-Astor pay all the security costs arising from a film screening that had attracted the wrath of student activists, the FSU stepped in and offered to pay the sum of £528 via the Mactaggart Programme.
Ms Bentley-Astor had invited the film's director, Stephen Shaw, to discuss Birthgap, which explores why the birthrate is falling in so many Western countries, with students as part of the screening, which was due to take place on May 12th.
Student activists busied themselves with block booking tickets under false names and threatening loud protests outside – all because Shaw had previously appeared on Dr Jordan Peterson's podcast, which, in the eyes of the students, make him "alt-Right adjacent".
In addition to being attacked by student activists, Ms Bentley-Astor had to contend with increasingly onerous stipulations from St John's officials, including a demand that she pay all the security costs related to the event.
As she was unable to cover these costs, the FSU stepped in.
Having met this demand, she was then asked to provide a risk assessment and to control any protest that might take place against her own event.
This Kafkaesque exchange became even more absurd when Ms Bentley-Astor duly submitted the risk assessment, only to be told that it had "further highlighted the large scale of the planned protest for this event and the disruption it would inevitably cause" and that the event would therefore have to be "postponed".
In our letter to St John's and the University of Cambridge, we point out that this bureaucratic decision-making process fails to uphold the College's duties with respect to freedom of speech, or to observe University regulations on the same. (You can read our letter here). We also sought assurance that the event could go ahead and reiterated our commitment to meeting all relevant security costs.
As it happens, Ms Bentley-Astor was able to put together a much-curtailed version of the event, with 25 of the 160 originally registered attendees managing to squeeze themselves into the offices of a Fellow at another college who was so outraged at the cancellation that they offered up their rooms at the last minute. Although there wasn't space or equipment for a screening to take place, the impromptu event did at least give students a valuable opportunity to discuss the film with its director.
If you'd like (or need) to apply to the Mactaggart Programme please contact us here – students, student societies and academics are all eligible.
FSU spearheads Oxford University fightback against attempt to no-platform Kathleen Stock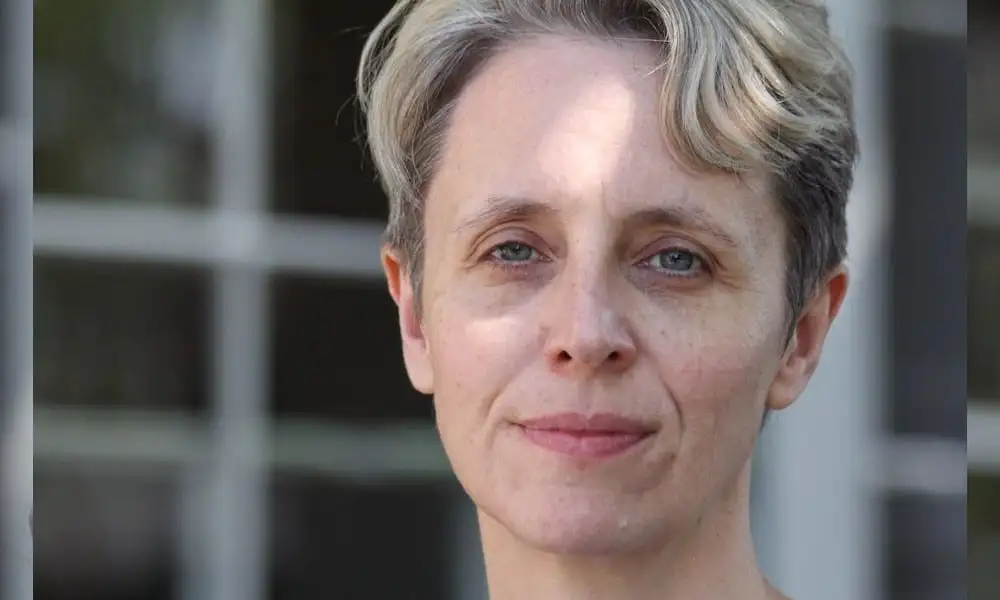 There is news of a heartening free speech fightback at Oxford University, as attempts by censorious student activists to no-platform gender critical philosopher Dr Kathleen Stock (above) and punish the society that invited her to speak on campus have been thwarted (Times, Telegraph).
That's thanks in part to the FSU. We wrote to the University of Oxford to complain about the decision by the Oxford University Students' Union (OUSU) to ban the world-famous Oxford Union Society (OU) from having a stall at the next freshers' fair, seemingly in response to the OU's refusal to no-platform Dr Kathleen Stock, whom it has invited to give a talk on May 30th. (You can read our letter in full here.)
The backstory to this latest outbreak of censorial student behaviour is fairly convoluted, but early signs of trouble emerged back in April when the University's LGBTQ+ Society said it was "dismayed and appalled" that the debating society had "decided to platform the transphobic and trans exclusionary speaker Kathleen Stock".
Pursuing a now well-worn cancellation tactic, in which the preservation of the student body's psychological safety is positioned as the supreme categorical imperative, the LGBTQ+ Society accused the Union of "disregarding the welfare of its LGBTQ+ members under the guise of free speech".
OUSU then upped the ante when it passed a motion to sever ties with the 200-year-old debating society. The move would have prevented the Union from having a stall at freshers' fair, which accounts for about half the new members that sign up each year.
In our letter, we asked the University Proctors, who are responsible for maintaining student discipline, to investigate OUSU's officers for having broken the University's rules protecting free speech. As we pointed out, a minority of student activists should not get to silence dissenting views for everyone else.
Worth mentioning, too, that over 100 Oxford students wrote to the Telegraph to condemn the harassment, bullying and threats made against the Oxford Union for inviting Dr Stock to speak and said that those at the University who wish to silence free speech "do not speak for us".
Forty-four Oxford dons also put their heads above the parapet and wrote an open letter in support of Dr Stock's right to express her views. The academics, ranging from well-known professors such as Richard Dawkins to younger lecturers, are united in the belief that the right to free speech is sacred and has to be defended (Times).
Thanks to this pressure, Oxford's new Vice-Chancellor intervened and said the event must go ahead. Pressure was applied by the Vice-Chancellor's office to OUSU, which has since reversed its decision to ban the Union from freshers' fair – although up to 1,000 protestors have said they'll try to prevent students attending tomorrow afternoon's event.
Let's hope the local police and the OU's security staff are able to make sure it goes ahead as planned. I'll be attending to show my solidarity with Kathleen Stock.
Sharron Davies MBE Book Launch – tickets now available!
Of all the issues thrown up by the rise of gender ideology and the push for trans-inclusivity, safety and fairness in women's sport is probably the one that has most grabbed mainstream public attention. And yet, too often, debate has been shut down and those who raise questions have been accused of 'transphobia'. One of the most stalwart defenders of the integrity of women's sports is the British Olympic swimmer Sharron Davies MBE.
We are therefore delighted to have been asked to host the official launch of Sharron's new book, Unfair Play: The Battle for Women's Sport, on Wednesday 5th July. Join us online or in-person in central London to hear from Sharron about why she wrote the book and the struggles she's faced to get her arguments heard.
We have brought together a superb panel to discuss the issues with Sharron, including Dr Emma Hilton, the award-winning development biologist who has advised various sporting bodies on transgender policy, including World Rugby, and Cathy Devine, an independent researcher who has published widely in the areas of sport policy, equality and human rights for girls and women over the last 15 years.
In the chair will be the FSU's Education and Events Director, Dr Jan Macvarish.
There will be an audience Q&A and plenty of time to socialise afterwards over a complimentary glass of wine, courtesy of Swift Press. The book will also be on sale on the night and Sharron will be signing copies.
In-person tickets with a discount price for FSU members can be purchased here. Members who prefer to watch the event online can register to join free of charge using the link supplied in Friday's newsletter and in emails from our FSU Events team. And non-FSU members who prefer to watch online can pay £5 to register here.
The Higher Education (Freedom of Speech) Bill Receives Royal Assent
In a major victory for free speech on campus, the Higher Education (Freedom of Speech) Bill got over the final hurdle in the House of Lords earlier this month and has now received Royal Assent.
This is something the FSU has been campaigning for for three years. We lobbied for the Bill when the Government was weighing up whether it was needed, advised the Government on what to include in it, defended it from critics in the House of Commons and the House of Lords, helped to amend it and, finally, mobilised our allies in Parliament to get it over the line.
The Bill does two things that will help secure academic freedom.
First, it will impose a legal duty on higher education providers (HEPs) to uphold and promote free speech and extend that duty to students' unions.
Second, it will create two new enforcement mechanisms, so HEPs aren't able to ignore these duties. The first of these will be the appointment of a Director of Freedom of Speech and Academic Freedom to the Office for Students (OfS), whom students and academics can complain to if they believe their speech rights under the Higher Education Act 2023 have been breached. This new 'free speech tsar' has already been appointed – it's Dr Arif Ahmed (above), a professor of philosophy at Cambridge with impeccable free speech credentials – and he will have the power to fine HEPs if he finds them at fault. The second enforcement mechanism is the creation of a new statutory tort, whereby students and academics will be able to sue HEPs in the County Court if their speech rights have been breached.
Taken together, this package of measures will go some way towards addressing the free speech crisis in our universities. About 20% of the 2,000+ cases we've dealt with in the past three years have involved universities, and we believe that in almost every one the student or academic who's got into trouble would have been in a stronger position if this new law had been on the statute books. Indeed, the fact that the new law will shortly be activated played a part in OUSU's u-turn over its ban on the Oxford Union from freshers' fair.
Live event with Prof Matthew Goodwin – book your tickets here!
On Wednesday 7th June, we will be hosting 'Whose values? Whose voices? Are we being silenced by a new elite?' featuring Professor Matthew Goodwin, a member of our Advisory Council and the author of Values, Voice and Virtue: The New British Politics.
We've brought together a great panel to discuss the book with Matt: Geoffrey Evans, Professor of the Sociology of Politics at Oxford University, Baroness Claire Fox and Telegraph columnist Sherelle Jacobs. FSU General Secretary Toby Young will be chairing the discussion. The event will take place at the Emmanuel Centre in Westminster.
There will also be an audience Q&A and plenty of time to socialise afterwards. So if you can get to London, it's a great opportunity to meet the speakers, as well as the FSU's staff and other members. There won't be a Zoom link on this occasion, although the event will be recorded. We therefore encourage you to book tickets to the live event. Tickets can be purchased here.
FSU Summer Speakeasies in Cambridge, Manchester and Edinburgh – tickets now available!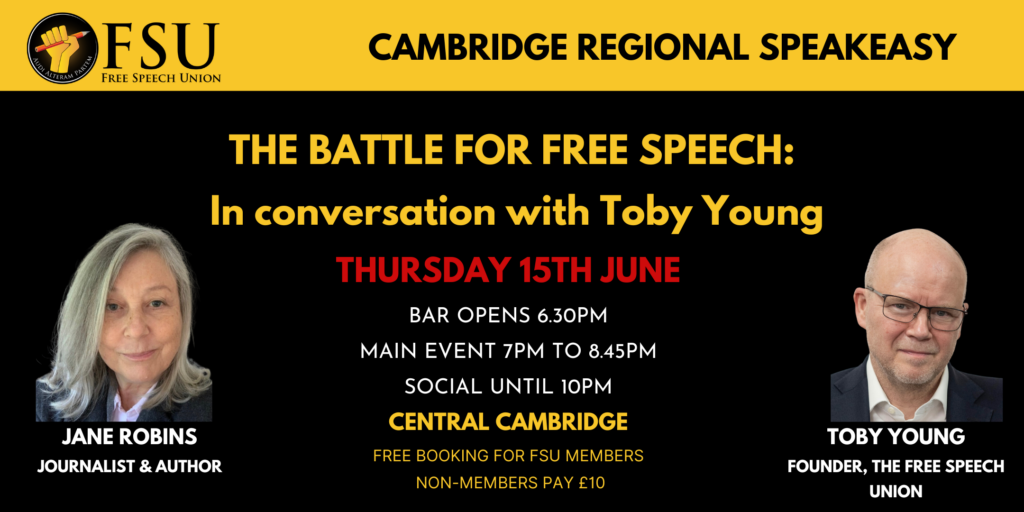 If you live in the Cambridge area, the first of our regional Summer Speakeasies will take place there on Thursday 15th June. Journalist and writer Jane Robins will interview me about my perspective on the battle for free speech, and much more. There will, of course, be plenty of time for socialising with fellow free speech supporters. FSU members can book tickets free of charge for themselves and their friends. Non-members pay £10. You can book your places here.
If you can get to Edinburgh on Wednesday 19th July, do please join us for our Summer Speakeasy on a particularly timely subject, 'Can the Arts Survive and Thrive in Scotland?' Taking place just weeks before the Edinburgh Festival, where comedian Jerry Sadowitz will return with his show in defiance of last year's cancellation, and with Joanna Cherry MP due to speak after an unsuccessful attempt to no-platform her, our guest speakers, poet Jenny Lindsay, actress and producer Kirstin McLean and author Ewan Morrison, will take us through the free speech issues faced by artists, writers and performers, and discuss how we can stand up for the right of audiences to judge for themselves. Get your tickets here.
On Thursday 20th July, we'll be in Manchester with what looks set to be a fascinating event, 'Free Speech: A Radical History', which will focus on the city's historic political struggles. We've invited two local historians, Michael Herbert of Red Flag Walks and Jonathan Schofield, tour guide and editor of Manchester Confidential, to share their knowledge and they'll be joined by historian of US political history, Dr Cheryl Hudson. Tickets are available here.
Kind regards,
Toby Young